Streamline the Digital Pathology Workflow
Fast, Interactive, Shareable Interface. Multichannel support. Metadata at hand.
Learn more and see our Digital Pathology solution in action:
Watch the webinar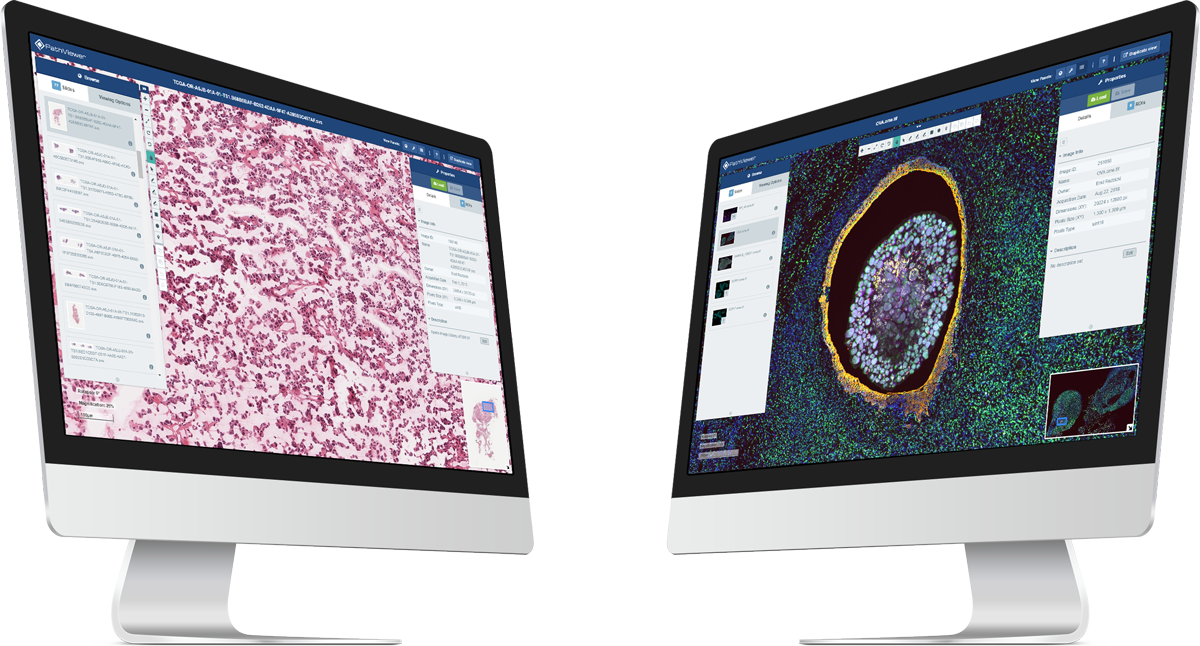 The Ideal Digital Pathology Solution
Fast, Interactive, Shareable Interface. Multichannel support. Metadata at hand.
Let's Customize a Digital Pathology Solution for You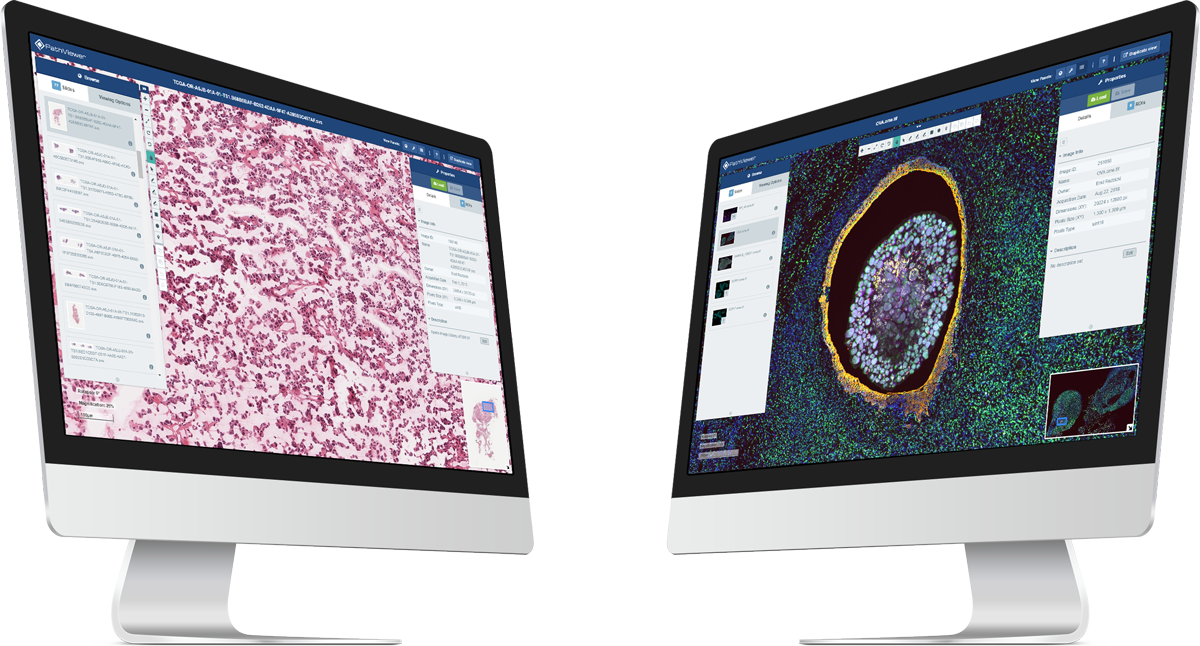 Working with Digital Pathology Data is Now Faster, and Easier Than Ever Before
Import and Annotation
Import from your own instrument. Add your own metadata. Connect and organize your H&E and multiplexed images all in one place.
Advanced Visualization
Multiple magnification options. Drawing and measurement tools for interactive annotations. Fast zooming and rotation. Secure sharing with colleagues.
Multichannel Analysis
Use any number of channels with ease. View, analyze, and understand a large number of pathways detected with multiple probes.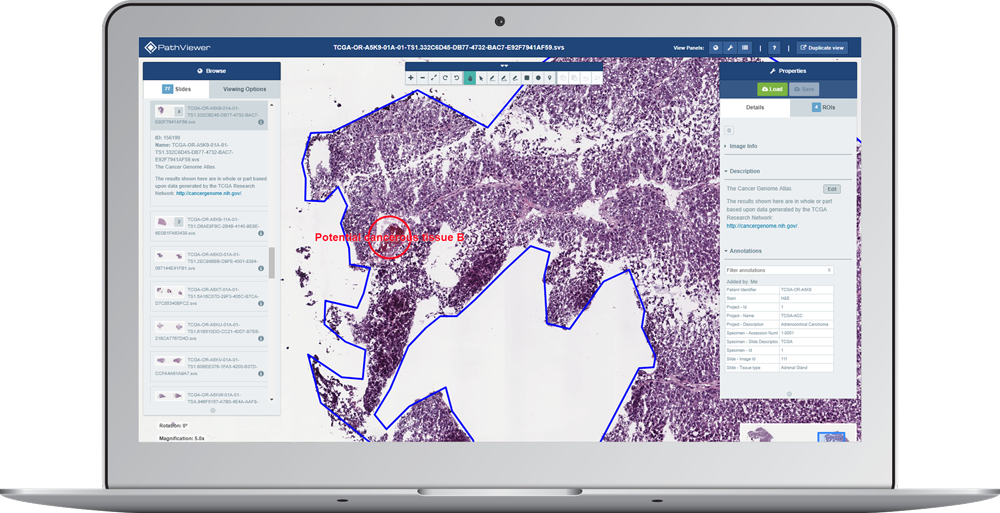 Integrate and connect your data, all in one place
PathViewer is integrated with OMERO Plus, which uses Bio-Formats to recognize and import data in original formats from multiple instruments, enabling you to organize and access your H&E images all in the same place. Easy annotation of experiment and image data is built in.
Learn more about PathViewer
Advanced data mining and visualization at your fingertips
With Parade for OMERO Plus and PathViewer, you gain value and understanding from large, complex collections of whole slide images: you can filter large data collections, build interactive graphs, and always maintain links to and access the underlying image data. A wealth of knowledge becomes available, resulting in better ideas and more discovery.
Watch our demo about Parade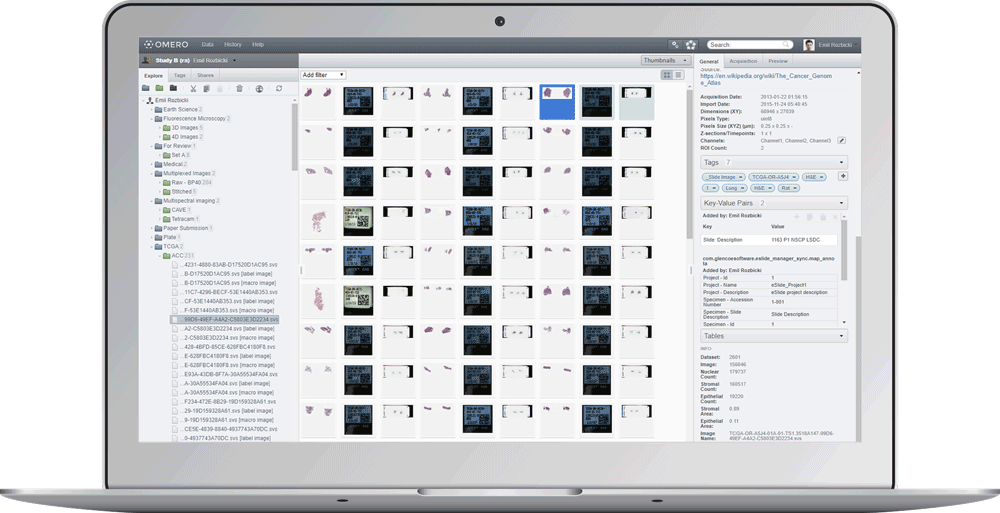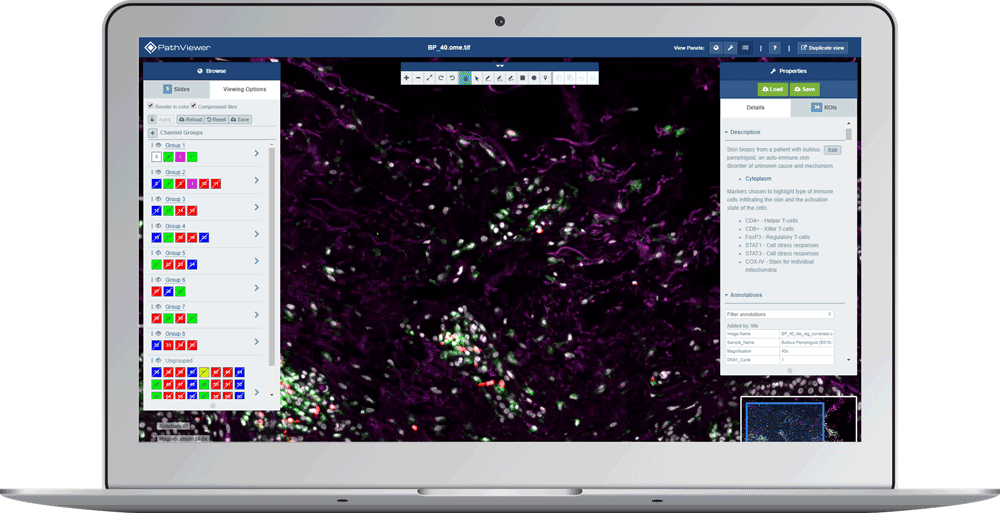 Analysis that fits your workflow
PathViewer is built on top of OMERO Plus, which provides an Open API to connect you to the analysis tools of your choice: CellProfiler™, Jupyter notebooks, OpenCV.
If you wish to write your own plugins, analysis tools or client applications, Java, C++, Python and MATLAB® are all supported.
Learn more about PathViewer
Share your discovery with confidence knowing your data is secure
OMERO Plus lets you securely share your data with colleagues, allowing them to see exactly what you see and add their own analyses and comments, all through our secure multi-user platform.
You can also export your data, so you can easily add H&E and multiplexed figures to papers, presentations, or reports.
Learn more about OMERO Plus
See how your work with digital pathology data can be fast, easy, and quickly give you new insights that lead to discovery and ideas.
Watch the Webinar
Looking for a Customized Digital Pathology Solution?
Let's help you access your digital pathology image data.