Learn more about the features that make PathViewer the most powerful, easy-to-use viewing and annotation tool available for digital pathology.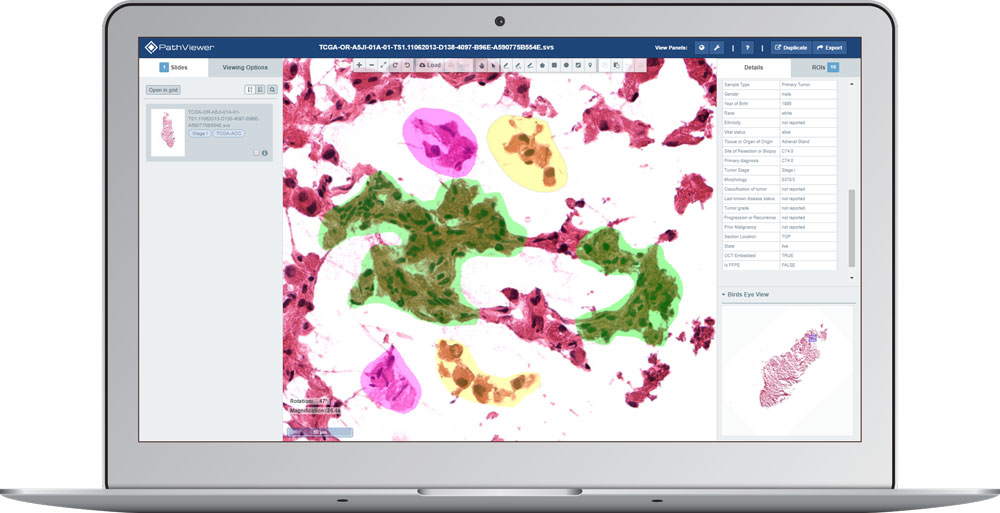 Reliable architecture
Better performance when panning and zooming, predictive preloading of images, keyboard shortcuts, revamped freehand drawing tools, and much more:
Arbitrary rotation and flipping
Optional kinetic drag
Configurable arrow key percentage panning for easier systematic slide review
Revamped freehand drawing tools, including:

Better freehand line tool
New freehand closed region tool

Dragless panning mode
Need More Info?
PathViewer GRID
View and draw on multiple images at the same time, sync your views, and copy/paste annotations between images with ease.
We've also extended the left-hand panel of PathViewer to include bi-directional navigation between PathViewer and PathViewer GRID, keyboard navigation of image listing, and tag/name filtering
Need More Info?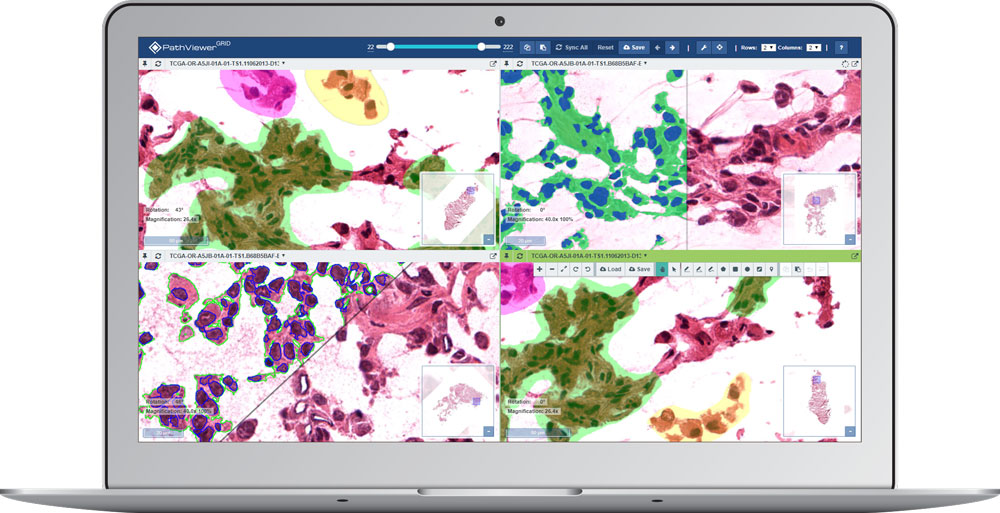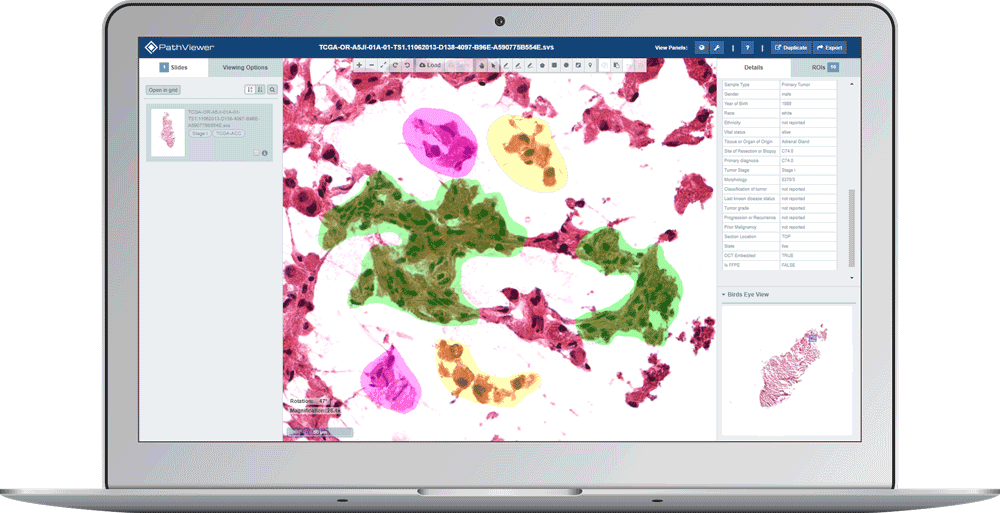 Export
You can set any image to export for publication or sharing with the click of a button. Include annotations, scale bar, slide overview, all at arbitrary DPI and in a multitude of formats that include PDF, TIFF, and PNG.
All the while, you maintain the ability to return to PathViewer settings that were the source for an export.
Request a Demo
Support for multichannel slides
Exploring images with a large number of probes can be challenging. To simplify existing visualization workflows and allow creation of new ones, PathViewer lets you organize channels into groups. There are no limitations on the number of channels or the number of groups so you are free to create new visualizations and explore your data however you wish.
Need More Info?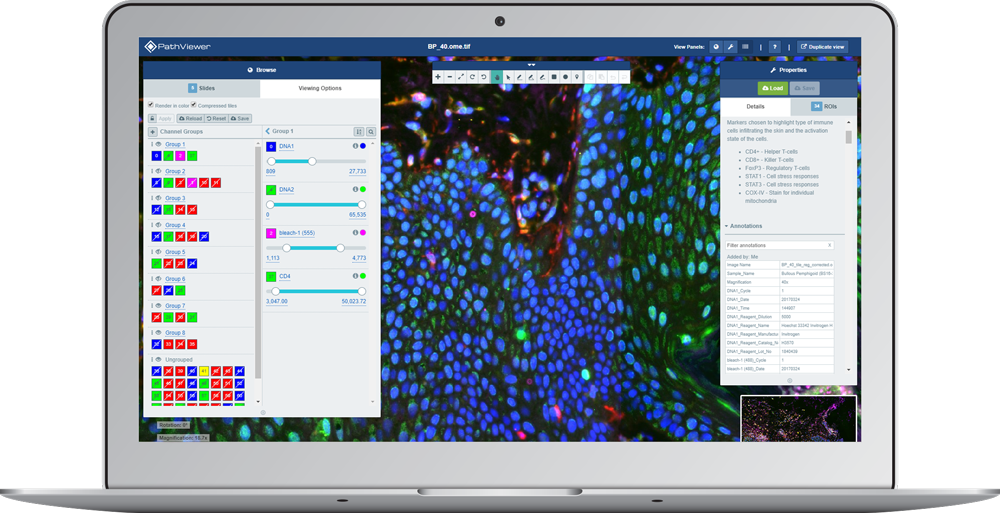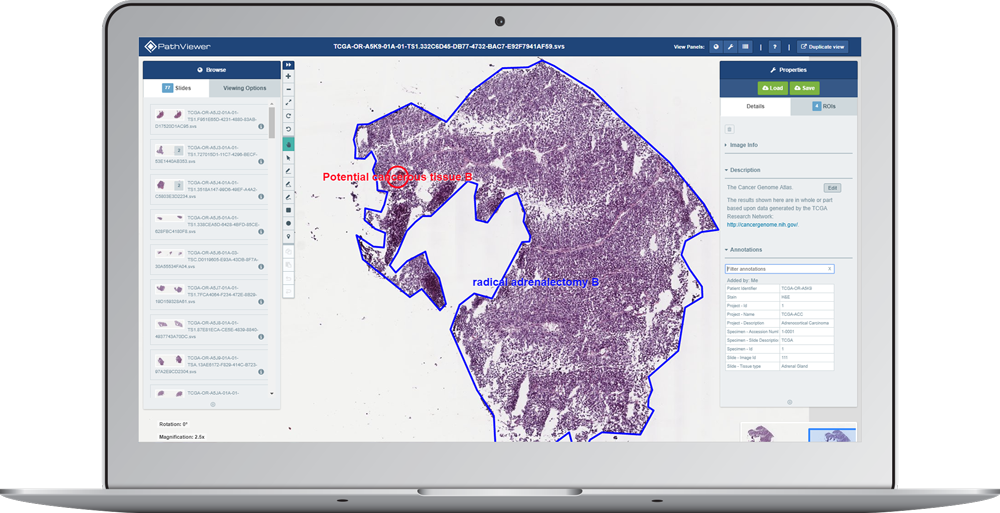 Even more metadata
PathViewer lets you use a formatted image description, a searchable list of text annotations, and as many ROIs as you like. You can generate all annotation types in a web browser, or view and interact with text and ROI annotations added by an analysis tool. Big complex data are easy and fast to access, securely share, and understand.
Request a Demo
Integrated with
OMERO Plus
Built to work seamlessly with Glencoe's OMERO Plus and OMERO from OME, PathViewer is a dedicated solution tailored to support the digital pathology workflow. This web browser-based platform agnostic application allows you to visualize, annotate and share pathology images—simply and from anywhere you work.
Platform agnostic
With our Bio-Formats natively supporting over 150 different file formats, you can work with your preferred scanner and favorite analysis software easily.
Flexible & scalable
OMERO Plus is designed to support a growing user base and can scale with your business as it goes from 5 to 500+ employees.
Multi-terabyte support
OMERO Plus is designed and architected to address the challenge of large, heterogeneous data sets regardless of the size of the organization.
More Features of PathViewer
Creating a product specifically for pathologists involves carefully selecting and developing features that would enhance existing workflows. This includes the following features:
Undo/Redo
Edit, update, and experiment with confidence knowing that you have full undo/redo functionality available for all operations.
Copy/Paste ROIs
Copy and paste one or more regions of interest (ROIs) either within or between images.
Browser-based
No need to install any new software. Connect to your data using your preferred browser, anywhere, anytime.
Simple, easy, & elegant
The intuitive interface was designed with the user in mind, providing the essential tools and functionality.
Drawing & measurement tools
Being able to draw polylines, polygons, ellipses, rectangles, and points along with the ability to zoom in and out while drawing enable precision and extra level of detail.
Multi-user collaborative environment
Collaborate securely when, how and with whom you want. Multiple users can work on the same image or dataset independently or simultaneously.
Flexible, Secure User Permissions
You control who can access the data and determine who can read, write and/or annotate.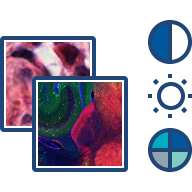 Brightfield & Fluorescence Image Adjustment
Make color and contrast level adjustments, assign specific colors to channels, turn channels on and off, and manage image intensity settings without losing the original data.
Slide barcode & information overview
View the essential details from your acquisition platform with a series of viewing panels which you can toggle on or off with the click of a button.
Fast zoom, highlighting and image rotation functions
Multiple levels of fast, stepwise zoom are available, as well as rotation to 0, 90, 180 or 270 degrees.
Duplicate window views
Replicate your current view as many times as you like, easily allowing side by side comparison of images.
Parametric URLs
Sharing your exact view with others is as simple as copy and paste. Quickly and easily share a region of interest (ROI) at an exact magnification and with choice of settings.
Export
Export your image files and post them on presentations, submit them for publication, and share them with whomever you wish.
Data Management Experts
Our team comprises decades of experience in computational image informatics and our solutions are used in thousands of institutions worldwide to power big image data discovery. We can provide everything needed to accelerate department-wide implementation and successfully move you to a digital pathology environment. Custom linkage to internal electronic lab notebooks (ELN) with the option to create customizable properties is also possible.
Superior Service and Support
We provide comprehensive levels of support and service based on your needs. Installation, software and system architecture support as well as performance tuning and monitoring can all be covered. Our dedicated team of professionals will tailor a solution to fit your organization's needs and keep everything running long after installation.
Need a Digital Pathology Solution?
Tell us more, and we can customize one for you.